GSM-R  (GLOBAL SYSTEM FOR MOBILE COMMUNICATION – RAILWAYS)
Grolleau is assisting the SNCF with their deployment of the GSM-R network (via Synerail) and therefore contributes to the modernisation of its global communication system.
A component of the European Rail Traffic Management System (ERTMS),
Telecommunications standard for over 20 European countries (opening of networks, interoperability),
Private mobile network infrastructure, wireless RF (Media of the European train signalling/control system ETCS).
Wireless/radio communication Transmission or Reception:
DATA: Control of trains' position & speed, VOICE: Calls,
GSM-R cells, BTS radio sites (cabinets, pylons, etc.): 
15,000 Km of tracks covered, including 1000 sites (Grolleau's annex bays, 2011-2017),
Data Transmission Network:
TRANSmission Network from BTS to BTS (cells/platform sectors) & to the core network. TRANSport network in copper, terrestrial, optical fibre.
Base Station Controller (BTS), BSC:
Acts as controller, traffic switcher in the plate, (between BTS cells) & to the other plates.  
Core network, NSS:
Databases with user identity & location, communication routing network switch.
Instant delivery of communication: 
Entering / leaving on fixed infrastructure (station, control or operation centre, etc.) & to BSC.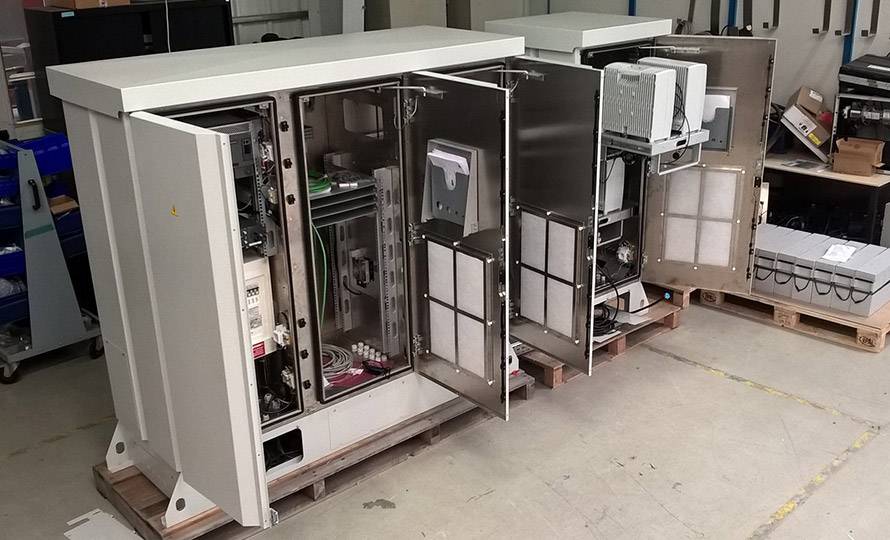 ANNEX BAY (2018 GENERATION)
Conveyance to the power grid: Connection to the energy supplier's supply terminal
Conveyance to the transmission link: Connection & hosting of transmission link equipment (SNCF wire, SDSL FO wire, RF),
Power supply (normal, emergency / battery backup):BTS 6K GSM-R Kpasch KIT (DM & RRH modules), transmission and utility equipment
Integration of the DM module:Part of the BTS 6K GSM-R kit. Equipment that manges communication between radio transmitters & GSM-R networks.
Dimension (LxHxD) : 2040 x 2037 x 722 mm
Telecom format:  19'' / 30 U (useful depth 500 mm)
Operating temperature: -20°C à 45°C
Protection factor :IP55 (double-skin)
Power supply: TMain low-voltage switchboard 230 VAC Class II with: 
- Inverter generator set
- Utilities: internal heating, site lighting, maintenance socket
Electrical distribution: 48 Volts DC via Electrical distribution device 2x3KWatts: 
- Flatpack 5U Eltek
- Netsure 501 Emerson
230 Volts AC ripple current via inverter:
- 3 Backup battery branches from 105 to 180 Ah / branch
ENERGY + BTS 6K GSM-R / DM module KIT
CUSTOMER EQUIPMENT + GSM-R TRANSMISSION
Radio link connection to the pylon / Antennas: Ensure the incoming / outgoing radio link (RRH "amplifier module")
Integration of Radio RRH equipment:  Operational constraints of 24/7 access by a single person, not compatible with integration on a pylon (night intervention security)
Protection of RRH modules: Restricted access to RF, FO etc. jumpers
Dimension (LxHxD) : 700 x 2037 x 722 mm
Operating temperature:  -20°C à 45°C
Protection factor: IP55 (double-skin)
Weight : # 200 Kg
- 2+2 RRH max of 40 Kg
Power supply: Arriving from the 2018 annex bay: 
- 230 Vac: internal lighting, maintenance socket
- 48Vdc: RRH radio module
Equipment Integration: Kapsch RRH Radio (BTS kit, etc.) : 
- Connection to antennas by RF band
- Connection to the DM module in the annex bay by FO & Copper (A-Bis)
- Integrated on site by Vinci Energie / Axians infrastructure teams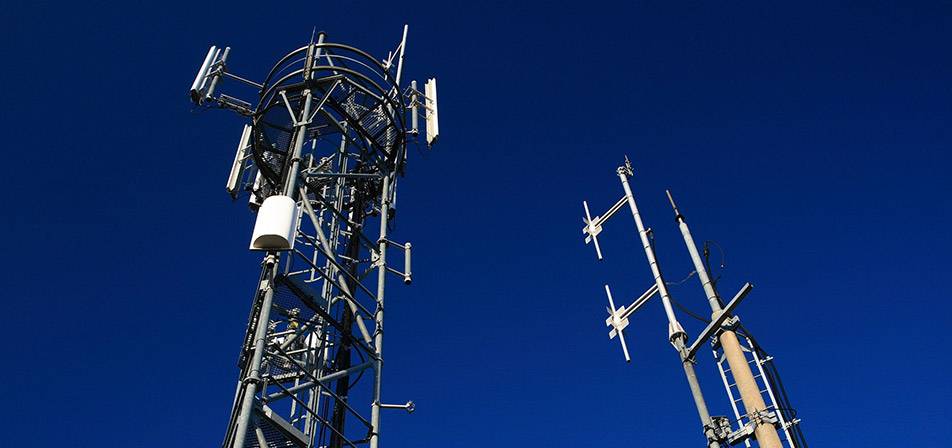 INTERESTED IN OUR GSM / RRH PRODUCTS ?