SHORT-TERM PARKING
SUPERVISION AND VERSATILITY
Made of aluminium, this « quick stop » station fis very robust.
With its modern design and colours that can be customised for your city, it blends into the landscape.
Cities, which increasingly need to improve traffic flows and parking, find Statio'minute, the ideal solution to revitalise their centres and make their local shops more accessible to their residents.
Standard design: Quick stop station
Manages 1 or 2 parking spaces.
Aluminium body, 3 mm treated stainless steel base.
2 mm stainless steel body as an option.
Fixed with 200x200 plate (solid concrete standard).
Rear door with vandal-proof 3-point lock.
Aluminium assembly panelled and riveted 20/10th mm.
Natural lower ventilation.
More than 95% recyclable in accordance with ROHS and WEEE guidelines.
On concrete slab, on E.P. concrete block with sealed rods or stainless steel support.
The STATIO'Minute station  is equipped with a vehicle detector that allows parking for a limited period of time that can be configured and adapted to the characteristics of the parking space:
Parking instructions are shown on a display or a sign.
When the time period has elapsed, the user is warned by a flashing red light.
The offence is transmitted in real time to the relevant services.
The stations' parameters and messages can be modified at any time via a web interface.
BIM Objects (in construction)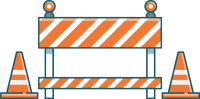 INTERESTED IN OUR QUICK STOP STATIONS ?